BLESSED BE HE WHO WAS NOT THERE
(An Article Published in the February, 2004 edition of Moment, "America's Premier Independent Jewish Magazine")

By Charles Fenyvesi

Ignoring the crowd, the rabbi began screaming. He called God a murderer, a criminal who cut down innumerable family trees, and an enemy of the Jewish people.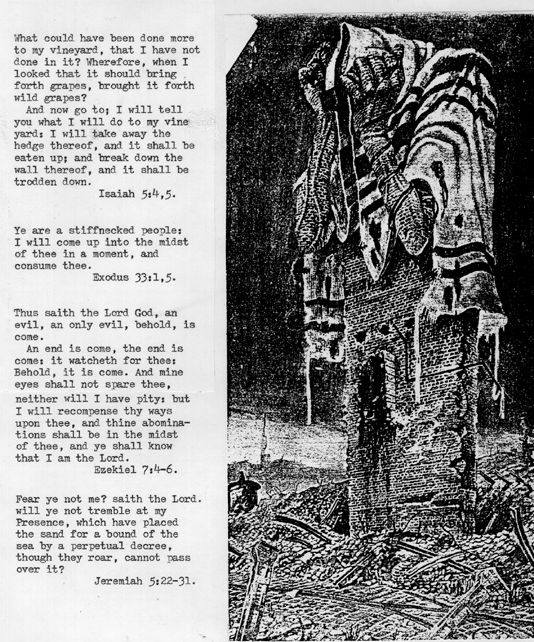 And when the Sun was going down, a deep sleep fell upon Abram; AND LO, A HORROR OF GREAT DARKNESS FELL UPON HIM...(Genesis 15:12).

Oh that they were wise, that they understood this, that they would consider their latter end...

For the Lord shall judge his people and (then) repent himself for his servants, when he seeth that their power is gone, and there is none shut up, or left (in Jerusalem)...(Deuteronomy 32:29, 36).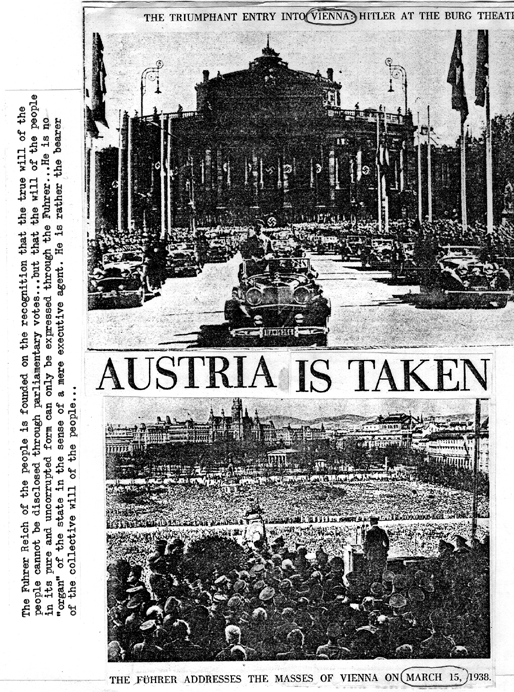 Thus saith the Lord, THIS IS JERUSALEM: I have set it in the midst of the nations and countries that are round about...(Ezekiel, chapters 4 to 9; Matthew, chapter 24...KJV).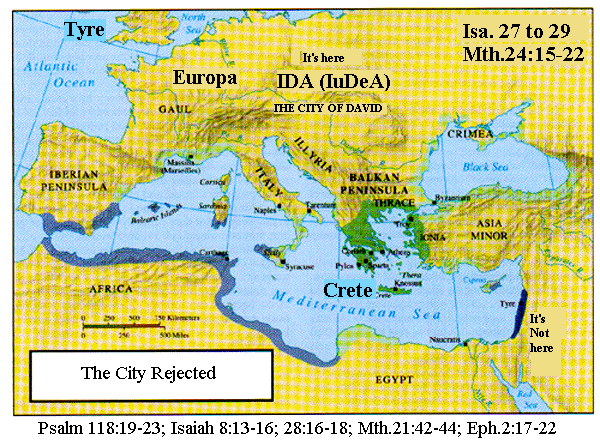 A RABBI AND A DESCENDANT OF RABBIS, Moshe Mannheim was a stocky, high-cheekboned replica of a storybook Hungarian farmer. DURING THE FIRST WORLD WAR, HE HAD ENLISTED IN THE AUSTRO-HUNGARIAN ARMY and twice received the empire's highest decoration for bravery under Fire. After the war he compiled the first Hungarian-Hebrew dictionary. (Please understand Matthew, chapter 24, and Luke 21, in light of the events of both the First and Second World Wars).

Moshe was a friend of my mother's eldest brother, Shumi Schwarcz, though Shumi was neither a synagogue-goer nor an ethusiastic ex-warrior. Seeing no reason for the dietary laws, the daily prayers with their repetitious phrases, and the countless rules and ordinances of the Orthodoxy he was born into, Shumi nevertheless sought meaning in the Jewish tradition.

Unlike other Orthodox Jews who would not waste time arguing with the non--observant, Moshe reveled in the challange of Shumi's questions, and he applied rationalism, Shumi's highest standard in justifying Jewish beliefs and observances. Moshe never got angry or raised his voice. Strolling under alle'es of sycamore trees or sitting on a bench in one of Debrecen's parks, Shumi told Moshe that he could not understand HOW AN ENLIGHTENED JEW IN PROGRESSIVE CENTRAL EUROPE COULD REMAIN BOUND BY WORDS THAT ONE MAN HEARD MORE THAN 3,000 YEARS AGO IN THE SINAI WILDERNESS...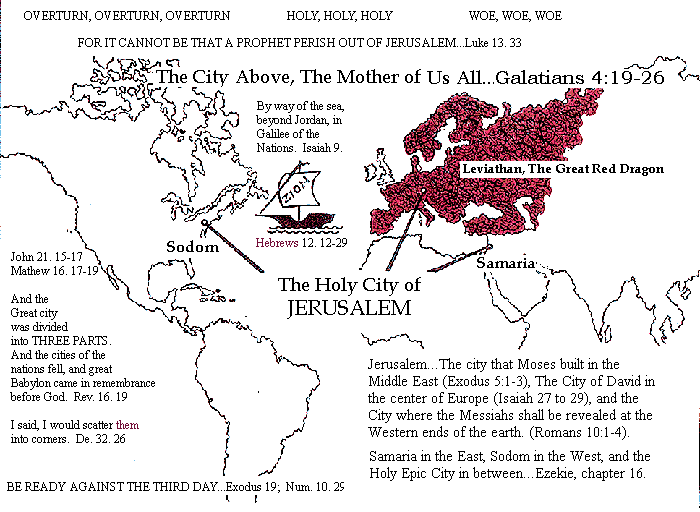 THIS IS THE WILDERNESS OF SINAI
(Moses went up into the Center of Europe to receive the Torah).
...During the Second World War, Moshe qualified for an exemption from anti-Jewish law on account of his outstanding military record from the First World War. Unlike the rest of Hungary's Jews, Moshe did not have to join a labor battalion, and his wife and their two children were not deported.

A few days after the Russians drove out the German and Hungarian armies from Debrecen in October 1944, Shumi found his way back from a labor battalion to what used to be his home. The two friends met by chance on Market Street, the town's broad, busy main thoroughfare. They were overjoyed seeing each other alive. But within seconds their conversation turned somber.

Shumi said he did not as yet know the whereabouts of his mother, and his wife and their five-year old daughter. Moshe said his wife and their two children, a daughter and a son, died in the final days of the Nazi rule; THE LAST ALLIED BOMBING RAID FLATTENED THEIR APARTMENT BUILDING. Moshe happened to be out on an errand, and now he wished that he too had died with his family.

After Shumi expressed his condolences, he said he suspected that his own family might have perished in Auschwitz. But as long as he had not heard from an eyewitness, he could not and would not give up hope that they might still be alive. Moshe shook his head. "But my dear Shumi, there is no hope," he said softly. "By now we know in Auschwitz the oldest and the youngest were killed right away." (Ezekiel. chapter 9).

"BUT WHAT ABOUT OUR FAITH?" SHUMI BURST OUT, UNABLE TO ACCEPT WHAT HE JUST HEARD. "HOW COULD OUR GOD ALLOW SUCH A THING TO HAPPEN?"...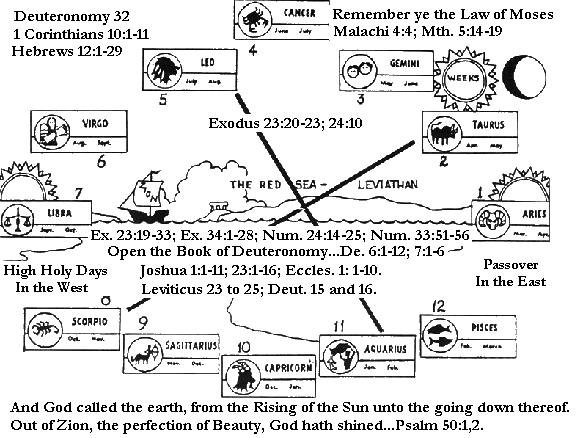 A BOW IN THE CLOUD...(Genesis 9:8-17)
These are they which have come out of great Tribulation...(Revelation, chapter 7...KJV).

(Please notice in this chapter that the tribe of Ephraim is missing. "Ephraim went backwards...Open the Book of the prophet Hosea at the turn of the 19th and 20th centuries, in Central Europe. Open the Book of Jeremiah at the same time).

(continued)...Something snapped in gentle Moshe. Ignoring the crowd that quickly collected, many of whom knew who he was, HE BEGAN SCREAMING. HE CALLED GOD A MURDERER, A CRIMINAL WHO CUT DOWN INNUMERABLE FAMILY TREES, AND AN ENEMY OF THE JEWISH PEOPLE. HE SAID HE WISH HE HAD NEVER CHANTED A BLESSING. HE REGRETTED THANKING GOD FOR CREATION, FOR THE TORAH, FOR SUSTENANCE, FOR HIS CHILDREN, AND FOR ALL THE MANY WONDROUS DIVINE GIFTS THAT AN OBSERVANT JEW MUST EXPRESS GRATITUDE EVERY DAY. FINALLY, SHAKING HIS FISTS IN THE DIRECTION OF THE HEAVENS, HE CURSED GOD, AGAIN AND AGAIN, AT THE TOP OF HIS VOICE, PRONOUNCING THE OPPOSITES OF THE BLESSINGS IN THE EIGHTEEN BENEDICTIONS, the centerpiece prayer in the synagogue liturgy.

Moshe's rage stunned Shumi. He did not try to interrupt because he later explained, THE CURSES (Moshe's deep lament) SEEMED TO HIM AKIN TO A PRAYER, and he had been taught not to interrupt a prayer for fear of cancelling its effectiveness. "Besides," Shumi added,"he could not be stopped."

What made Shumi's insides turn into stone was the realization that he had been foolish in persisting in his hopes for hs own family. For the first time he undestood what others did not know or were reluctant to break to him: His immediate family was no more. Nevertheless, he found strength to address his thoughts to Moshe. "Your loss is much greater than mine," Shumi said. "You lost your God as well."

The two bereaved men hugged nd kissed on both cheeks, and each went his way.

On two occasions Moshe attempted suicide...A year after the war's end, however, he met a woman 17 years younger than he, who had just returned from Auschwitz. They fall in love and married. A year later, she gave birth to a girl who was given the names Eva Terez, after the daughter and the wife Moshe had lost.

In the mid-1960s, Eva married one of her father's students, AND THE COUPLE WENT TO VIENNA FOR A WEEKEND AND FROM THERE, IN VIOLATION OF HUNGARIAN LAW, EMIGRATED TO ISRAEL. Then Moshe's second wife died after a long illness. In 1968 Moshe petitioned Hungary's communist authorities to make an exception for him--he was 70 years old and lived alone--and to disregard the state policy of punishing families whose members left the country illegally and permit him to go to the land of his forbears. Eventually his request was granted.

After the loss of his first family, Moshe stopped praying, and he avoided he synagogue. Except for fasting on Yom Kippur--which he did at home "as an act of solidarity with fellow Jews," he explained--he refused to have anything to do with the laws of Orthodoxy. But once in Israel he felt the tug of small pressures from his family that included an observant young nephew, a particular favorite, who remeinded him of the son he had lost.

One more time Moshe fell in love and married. His third wife, a soft-spoken widow a few years younger than he, longed for tradition, though she said nothing, afraid to tear open old wounds. (But we must). Nevertheless, Moshe understood the dialect of her silences. Little by little, step by step, and with reservations, Moshe returned to the faith of his youth, first keeping the Sabbath and celebrating other holy days, then attending synagogue services, and finally, following all the many hundreds of rules and customs of Orthodoxy.

In his eighties, Moshe went back to school, and qualified as a scribe of religious documents. He specialized in mezuzot. On ascrap of parchment small than his palm, he copied the Biblical text about the Almighty and Hid readiness to shield His people from all harm. Tradition maintains that a mezuzah has the power to protect a home and all who live there. ( But take heed...Deuteronomy, chapter 6).

In 1992, at age 94 and at peace with his God and with himself, Moshe was gathered to his ancestors. At his request he was buried in Jerusalem; his two grandsons, whom he called his sons, said Kaddish for him.

Moshe;s story may be read as a parable of faith triumphing over despair, love over anger, and life over death. Yet for me (the author), all the loving words I read and heard from my family about the miraculous restoration of his private world cannot undo a single one of his curses. NOW THAT UNCLE SHUMI IS BURIED IN OUR FAMILY CEMETARY IN HIS NATIVE VILLAGE, I am heir to the memory of Moshe's curses. Since childhood I have imagined them as a string of explosives that set the air on fire. I can see that fire burning whenever someone cites the Biblical passage on Moses coming upon the Thorn Bush which "burned with Fire" yet,"was not consumed." and, later on, climbing Mount Sinai, "THE MOUNTAIN BURNING WITH FIRE UP TO THE HEART OF THE HEAVENS."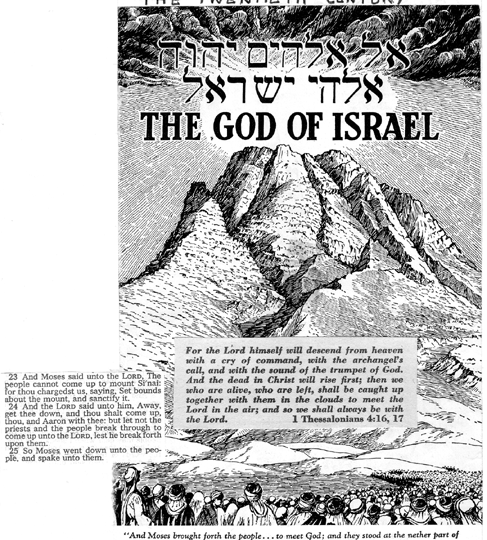 THIS IS MOSES' VISION OF THE ENTIRE 20TH (NOW 21ST) CENTURY...(Exodus 19 and 20).
...MOSHE (Moses) IN SINAI AND MOSHE IN DEBRECEN STAND AT THE ANTIPODES OF JEWISH HISTORY. WE MAY DEFINE ALL OTHER TIMES BY THE WAY WE CAN RELATE THEM EITHER TO THE FIRES OF SINAI, OR TO THE FIRES OF THE CREMATORIA. THEIRS IS A FEARFUL SYMMETRY...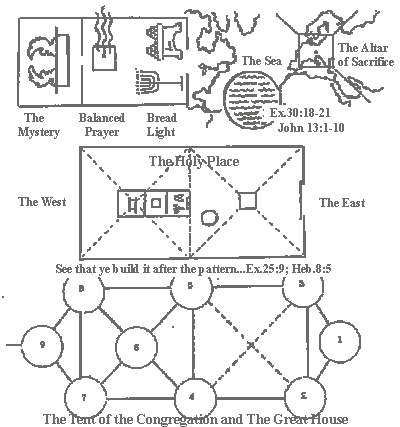 THEY ARE THE SAME.
...AS GOD'S PEOPLE, WE WERE CLOSEST TO HIM AT MOUNT SINAI AFTER WE ACCEPTED, through Moshe's mediation, HIS SOVEREIGNTY OVER US. BUT HE HAS NOT SPOKEN TO US SINCE THEN. AND HE ABANDONED US AT THE TIME OF OUR GREATEST NEED...

PSALM 48.

Wherefore I say unto you, All manner of sin and blasphemy (every curse), shall be forgiven unto men, but the blasphemy against the Holy Ghost (the overshadowing mystery of the Western world) shall not be forgiven unto men.

And whoseover speaketh a word against the Son of man (the mysteries of Judaeo-Christianity) it shall be forgiven him: but whosever speaketh against the Holy Ghost (the revelation of these Mysteries in the last day), it shall not (cannot), neither in this world, neither in the world to come...(Matthew 12:31,32).

...Though the rabbis cite as precedents the expulsions in the Middle Ages, the auto-da-fes in Spain, and the pogroms in Poland and Russia, none of them prepared us for the magnitude of the Nazi Final Solution, for its meticulous planning and thoroughness, FOR ITS MERCILESS FURY.

WE READ THAT AT MOUNT SINAI THE CREATOR OF THE UNIVERSE SPOKE IN THE MIDST OF THUNDER AND LIGHTNING, SO WE WOULD CHOOSE HIS LAW. BUT HIS WITHDRAWEL DURING THE WAR forced some of us to hold back our unconditional assent, and we are reluctant to assume the suplicant's stance that the Orthodox prayer book compares to "a slave praising his master before he dares make a request." Can we bring ourselves to acknowledge that in ignoring our pleas he betrayed us? Those who believe with intact faith object to such a thought. (Please understand the words at Hebrews 12:14-29...KJV, for these judgments are not complete yet).

The question, as impertinent as it is practical, is whether we should add yet another blessing for Him who, in the words of the Eighteen Benedictions, The Shemonah Esrei "sustains the living with kindness, supports the fallen, and realeases the confined." Should we also say: BLESSED BE HE WHO WAS ABSENT?

Throughout the centuries since the liberation from the gods and taskmasters of Egypt (an epic that is not complete yet), our rabbis told us that every Jewish soul who ever lived and will ever live was present at Mount Sinai. (We are standing there today). It is a thought a lyrical as it is didactic.

"We have never been the same since the day on which the voice of God overwhelmed us at Sinai," the Polish-born theologian Abraham Joshua Heschel wrote in 1955. (And we will not be from this time on). IT WAS "LIKE NO OTHER EVENT IN THE HISTORY OF MAN." WHAT RABBI HESCHEL SAID ABOUT SINAI CAN BE SAID ABOUT THE DEATH CAMPS AS WELL. "Nothing can ever be the same again," my relatives said over and over again after the war. TWO GENERATIONS LATER, MANY JEWS INCLUDING THESE NON-OBSERVANT (as well as all the other peoples of the earth who are alive at this time in history) ARE POSSESSED OF THE SAME FEELING: EACH OF US WAS, IN A YET UNDEFINED AND PERHAPS INDEFIINABLE WAY, PRESENT IN THE DEATH CAMPS AS WELL.

For those of us who escaped that fate and others born since then, imagining ourselves in those barracks is an act of will. IT IS THE MIND'S PILGRIMAGE TO THE SITE OF OUR TERROR...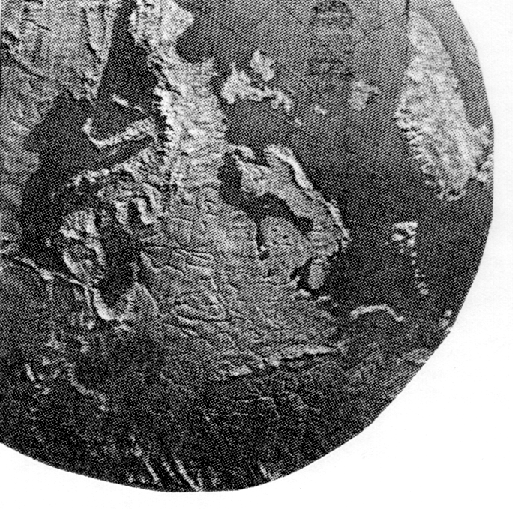 Isaiah, chapter 27 to 29...(KJV).
...that tightens the throat like a noose. In comparison, all our current disaffections seem petty. We return home with invisible numbers tattooed on our arms.

NO EXPERIENCE SINCE SINAI HAS HELD US IN THRALL AS HAVE THE DEATH CAMPS. While each year at the Passover Seder we dutifully obey the rabbinical commandment and think of ourselves as if we ourselves had left Egypt (Not yet), many of us are visited by the recurrent nightmare of being marched to the gas chambers. At Mount Sinai, each of us gained something immeasurable; in the death camps many of us lost something irretrievable (our spiritual adolescence and ignorance of God).

The part of me that burned up in Auschwitz was my grandmother Roza's unquestioning surrender to God's justice and loving kindness, as well as her abandon in chanting unself-consciously the prayers that praise him with oriental extravagance. I cannot return to the orchard of her perfect faith where she once walked with her husband, my long-departed grandfather and model farmer after whom I am named. It is a strain for me to repeat prayers such as "Praise God in his Sanctuary, praise him in the Firmament of his Power. Praise him for his Mighty Acts;praise him as befits his Abundant Greatness." At times I mumble when a prayer cites his "infinite mercy," and I cringe when reading Job's slavish avowal, "though he slay me, yet will I trust in him."...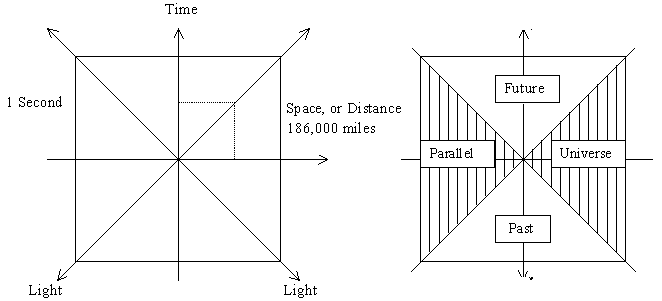 The Rabbi is over here, on this side...
...Nevertheless, I cannot bring myself to repeat any of Rabbi Moshe Mannheim's curses, not even in cold print, not even for the purpose of a quote. (They have long ago, even before he quoted them, been deposited in the Sea of Forgetfulness).

Moshe's curses cannot be unsaid They hover every prayer I recite. They are invisible footsteps to each page of Talmud I study. A snake of a thought is coiled on a Tree above my head. It hisses: Could it be that He is our invention, as much as we are supposed to be His? Nevertheless, I praise Him. Tradition obligates me, and fellow-Jews expect me to join the chorus as a matter of course. How could I refuse the honor of being called up to say the blessings before and after the weekly Torah portion is read in the synagogues? Why should I stray from what strikes me as a natural way? If I don't praise Him, I miss the burnished phrases and their antique resonances. Whenever I fail to join the prayers, I am aware that I do not live up to my forebear's standards.

The observance of traditions repeated faithfully for so many centuries is for our sake as much as His. Because we treasure them for their solemn, stately beauty and their archaic, half-suppressed, and half-forgotten magic. BECAUSE THEY REMIND US THAT WE ARE ALL PART OF THE PEOPLE WE BECAME AT SINAI. BECAUSE VAULTING OVER THE FENCES OF TIME AND SPACE AND SPURNING THE ENTRIES ON OUR BIRTH CERTIFICATES AND PASSPORTS, WE TURN INTO OUR ANCESTORS--AND THEY INTO US.

The Bible tells how one night Jacob refused to submit himself to God, wrestled with the angel of God, and in the end won. Jacob's reward was a glorious new name, ISRAEL, meaning "HE WHO WRESTLES WITH GOD (with Self) AND PREVAILS." The name implies that it is not only permissible but meritorious to fight God. Yet in the Book of Job, the Bible warns us: "Who ever challenged him and came out whole?"

TheForking Roots of Jewish Thought join faith and doubt, affirmation and denial, submission and defiance, strategic silence and thunderous pronouncements, desert starkness and extravagant ornamentation, appropriate prayers chanted at precisely defined times and lapsed observance following disappointment in the Deity. We canlive a wholesomelife as Moshe's curses echoin our ears, while our tongues davka confirms the covenant that Moshe sealed. A JEW IS ENTITLED TO CLEAVE TO BOTH EPIPHANIES.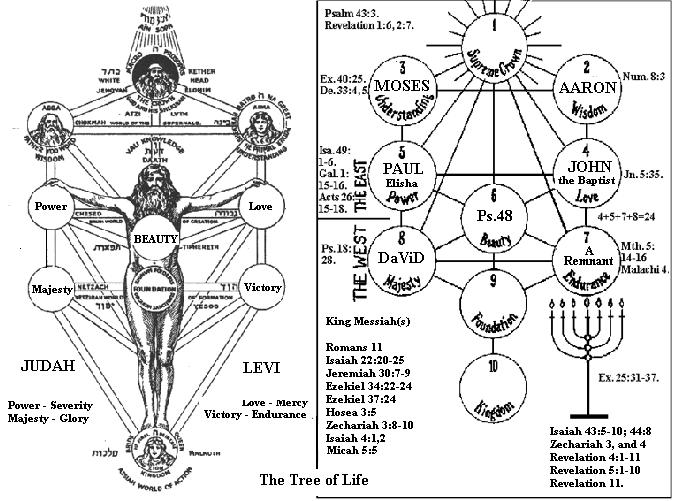 The Sun and Moon, Levi and Judah
Chapter 10, Ephraim Goes Backward
The Zionist State and the Zionist State of Mind