THE DOCTRINES OF DEVILS
Now the Spirit speaketh expressly, that in the latter times some shall depart from the faith, giving heed to seducing spirits, and doctrines of devils;

Speaking lies in hypocrisy; having their conscience seared with a hot iron;

Forbidding to marry (understand the metaphor: 2 Corinthians 11:1-15; Isaiah 4:1,2), and commanding to abstain from meats, which God hath created to be received with thanksgiving of them which believe and know the truth.

For every creature of God is good, and nothing to be refused, if it is received with thanksgiving (ultimately understand all the metaphors: 1 Corinthians 3:1-3; Hebrews 5:11-14; Isaiah 28:9).

For it is sanctified by the word of God and prayer...(1 Timothy 4:1-4).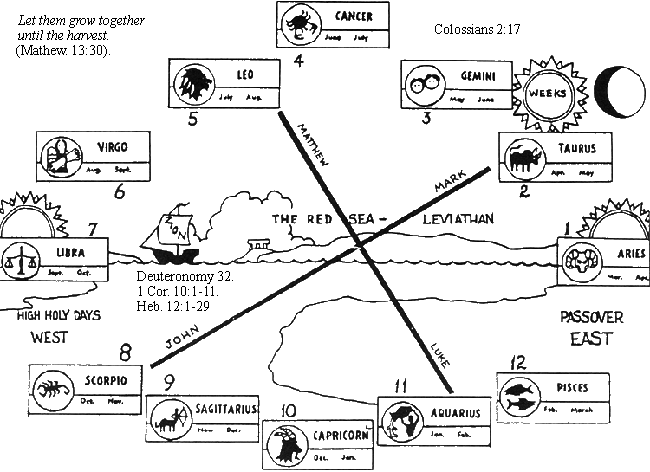 Malachi, chapter 4; Revelation 13...(KJV).
Take up this parable against the king of Babylon, and say....How art thou fallen from heaven, O LUCIFER, SON OF THE MORNING! how art thou cut down to the ground (Matthew 3:10), which didst weaken the nations!

For thou hast said in thine heart, I will ascend into heaven, I will exalt my throne above the Stars of God: I will sit upon the mount of the Congregation, in the sides of the North,

I will ascend above the Heights of the Clouds; I WILL BE LIKE THE MOST HIGH...(Isaiah 14:12-14).
And you hath he quickened, who were dead in tresspass and sins;

Wherein in time past ye walked according to the course of this world, ACCORDING TO THE PRINCE OF THE POWER OF THE AIR, THE SPIRIT THAT NOW WORKETH IN THE CHILDREN OF DISOBEDIENCE.

Among whom also we all had our conversation in times past in the lusts of our flesh (the flesh of ignorance and unrighteousness), fulfilling the desires of the flesh and of the mind; and were by nature the children of wrath, even as others...(Ephesians 2:1-3).
But I say, that the things which the Gentiles sacrifice (their own sons and daughters), they sacrifice to devils, and not to God, and I would not that ye should have fellowship with devils.

Ye cannot drink the cup of the Lord, and the cup of devils: ye cannot be partakers of the Lord's table, and of the table of devils.

Do we provoke the Lord to jealousy? are we stronger than he?...(1 Corinthians 10:1-20-22; Psalm 106:34-40; Deuteronomy 32:15-29).
As ye have therefore received (the mystery of) Christ Jesus the Lord, so walk ye in him:

Rooted and built up in him, and stablished in the faith, as ye have been taught, abounding therein with thanksgiving.

Beware lest any man spoil you through philosophy and vain deceit, after the traditions of men, after the rudiments of the world, and not after Christ.

For in him dwelleth all the Fulness of the Godhead Bodily.

And ye are complete in him which is the head of ALL PRINCIPALITY AND POWER... (Colossians 2:6-10).
Be sober, be vigilant; because your adversary the devil, as a roaring Lion, walketh about, seeking whom he may devour:

Whom resist steadfast in the truth, knowing that the same afflictions are accomplished in your brethren that are in the world...(1 Peter 5:8,9).
Flee also youthful lusts: but follow righteousness, faith, charity, PEACE, with them that call upon the Lord out of a pure heart.

But foolish and unlearned questions avoid, knowing that they do engender strifes.

And the servant of the Lord must not strive; but be gentle unto all men, apt to teach, patient,

In meekness instructing those that oppose themselves; if God peradventure will give them repentance to the acknowledging of the truth;

And that they may recover themselves out of the snares of the devil, who are taken captive by him at his will...(2 Timothy 2:22-26).

And in nothing terrified by your adversaries: which is to them an evident token of perdition, but to you of salvation, and that of God.

For unto you it is given in the behalf of Christ, not only to believe on him, but also to suffer for his sake;

Having the same conflict which ye saw in me, and now hear to be in me...(Philippians 1:27-30).
THE SPIRITS OF CAIN AND NIMROD
Why do they not understand my speech? even because they cannot hear my word (understand Hebrews 12:25-29).

They are of their father the devil, and the lusts of their father will they do. He was a murderer from the beginning, and abode not in the truth, because there is no truth in them. When they speaketh a lie, they speak of their own, for he is liar, and the father of it...(John 8:43,44).

Wherefore putting away lying, speak every man truth with his neighbor: for we are members one of another.

Be ye angry and sin not: let not the Sun go down on your wrath;

Neither give any place to the devil...(Ephesians 4:25-32).
Beloved, now are we the sons and daughters of God, and it doth not yet appear what we shall be: but we know that when he shall appear, we shall be like him; for we shall see him as he is...
THE EAST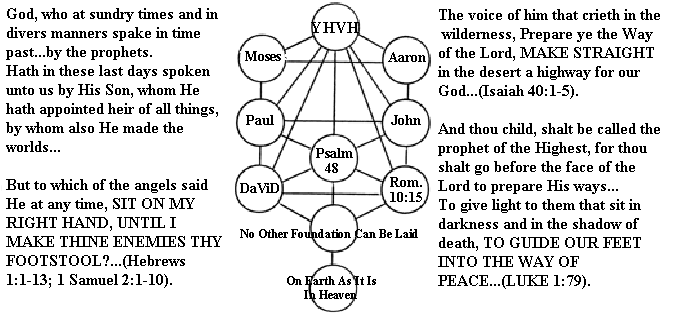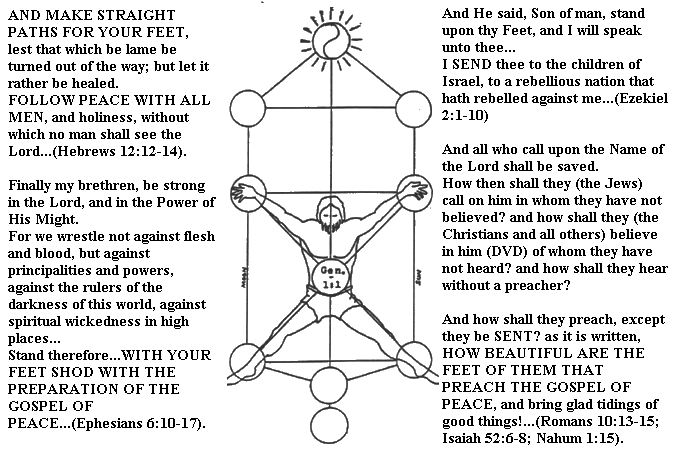 THE WEST
And every man that hath this hope in him purifieth himself, even as he is pure.

Whosoever committeth sin transgresseth the law: for sin is the transgression of the law...

He that committeth sin is of the devil; for the devil sinneth from the beginning. For this purpose the Son of God was manifested, that he might destroy the works of the devil.

Whosoever is born of God doth not commit sin (doth not transgress the law); for his seed remaineth in him: and he cannot sin, because he is born of God...(1 John 3:2-9).
Would to God ye could bear with me a little in my folly: and indeed bear with me.

For I am jealous over you with godly jealousy: for I have espoused you to one husband, that I may present you as a chaste virgin to Christ.

But I fear, lest by any means, as the Serpent beguiled Eve through his subtilty, so your minds should be corrupted from the simplicity that is in Christ.

For if he that cometh preacheth another Jesus (an American Jesus; a capitalist Jesus), whom we have not preached, or if ye receive another spirit, which ye have not received (from us), or another gospel (such as the gospel--the doctrine--of a Just War), which ye have not (beforehand) accepted, ye might well bear with him...

For such are false apostles, deceitful workers, transforming themselves into the apostles of Christ.

And no marvel; for Satan himself is transformed into an angel of Light.

Therefore it is no great thing if his ministers also be transformed as the ministers of righteousness; whose end shall be according to their works...(2 Corinthians 11:1-4, 13-15).
THE REASONINGS OF DEVILS
This survey appears in the January 16, 2004 issue of Executive Intelligence Review.
CAMPAIGN 2004: WHERE THEY STAND
Military Policy:
Defense of the Nation in a
Time of Global Economic Crisis


The following is Part 3 in a series of documentary comparisons of the views of the 2004 Democratic Presidential contenders. The topics are those raised by Lyndon LaRouche's candidacy since Jan. 1, 2001, and therefore we place him first. The other candidates are listed in the order of the number of their itemized campaign contributions. (LaRouche is number two by this count.) Part 1, in EIR of Dec. 12, 2003, dealt with the Iraq War and the Cheney neo-conservative coup (we touch on Iraq policy in what follows below, but see Part 1 for more details); Part 2, in EIR of Dec. 26, 2003, was on economic policy. Part 4, in EIR of Jan. 30, 2004, is on Attorney General John Ashcroft and the threat of police-state rule. Part 5 is on how to reverse the breakdown of the United States' economic infrastructure. Part 6 is on the Middle East Crisis. Marcia Merry Baker, Roch Steinbach, and Susan Welsh prepared this report.

Lyndon H. LaRouche, Jr.
Military Doctrine/Strategic Defense

LaRouche has for three decades been a unique spokesman for a Classical conception of strategic defense, as the cornerstone of military policy for the United States. Strategic Defense combines economic and scientific/technological progress; the developing skill levels of the population; and a foreign policy based on fostering a community of sovereign nation-states, to form a coherent military policy which is the opposite of the currently predominant "utopian" conception.

LaRouche was the conceptual author of the policy which became known as Ronald Reagan's Strategic Defense Initiative. LaRouche had elaborated a program for anti-ballistic missile defense, based on technologies using "new physical principles," which would involve cooperation between the United States and Soviet Union, to end the Cold War—the age of Mutual and Assured Destruction (MAD)—and replace it with a doctrine of Mutual and Assured Survival. This, he conceived as a "science-driver," which would revive the moribund economy of the Soviet Union; shift the economies of the West toward high-technology, capital-intensive production; and raise the skill levels and living standards of the Third World. Most recently, LaRouche discussed the history of that policy fight in a Dec. 12, 2003 webcast from Washington, D.C.:

"I'd been working on this since 1977. The idea was that if the United States and Soviet Union could agree on the development of certain technologies which existed scientifically, that in itself would not prevent a nuclear attack, but the fact that they had agreed to develop such systems would change the policy away from Mutual and Assured Destruction to a new policy. And this would work, particularly if we would use these technologies—which had multiple uses, shall we say—to help developing countries as well as benefit in terms of military application. Reagan, who, apart from all his other problems, was actually a Roosevelt Democrat by breeding, was struck on this.

"On economics, he was unreachable. You couldn't touch him on economics; he was just gone. And also, of course, he adapted to Truman and the right wing, in Hollywood, famously, in the post-war period. But on this thing, the SDI, he agreed. There has to be an alternative to MAD.

"So, I was then put in a situation of back-channel discussion with the Soviet Union on exploring this possibility. Reagan at some point—I don't know exactly what point, I think it might have been around January of 1983—finally decided to go with it, and had a meeting with people to make sure that he would say in his speech—in a five-minute segment of his March 23, 1983 speech—that he would say in that speech exactly what I had been saying to the Soviet government in these back-channel discussions. He said it.

"Well, Andropov turned it down."

Preventive War.

In an Oct. 22, 2003 webcast, from Washington, D.C., LaRouche also addressed strategic defense policy, denouncing the doctrine of preventive, or pre-emptive war:

"Instead of the lunacy of nuclear preventive war, especially the preventive nuclear war policies revived by Vice-President Cheney, we must return to that principle of strategic defense which was introduced by Carnot and employed by Scharnhorst, a principle has been the policy of all of our great Presidents and military commanders, such as MacArthur and Eisenhower, since. Among these lessons learned were the emphasis upon the role of an Army Corps of Engineers, and the importance of shifting the training of soldiers and sailors to the principle of mission-orientation introduced under Scharnhorst."

Asymmetric Warfare, "Mini-Nukes."

Since the announcement of a pre-emptive warfare strategy by the Bush-Cheney Administration—including pre-emptive nuclear war—LaRouche has discussed the measures of "asymmetric warfare" that nations that are possible targets of such warfare will take, in their own defense. He outlined the general idea in an Aug. 17, 2003 campaign policy paper, "World Nuclear War When? McAuliffe's Deadly Delusions: or, How Harry Truman Defeated Himself":

"Take one relatively obvious example of the kind of systems and their measures presently in the making," he wrote. "Take relatively very small, very quiet submarines, much quieter than today's nuclear-powered military submarines, smaller submarines loaded with small objects to deposit in places relatively most difficult for defenses to detect. Or, consider very, very deep-diving submarines which can do special tricks. Meanwhile, nuclear and thermonuclear devices can be produced in a wide range of effects, many of these relatively small. Also, there are possibilities for producing global effects, which we, then involved in the proposed SDI, had considered, back during the mid-1980s, in our defining of the requirements to alter the environment for short, but significant intervals of time; that, on a relatively large scale.

"The point being illustrated by the references made, is that there are many ways in which the U.S.A. nuclear Triad can be made relatively, asymmetrically obsolete; as by, in effect, bypassing it with warfare in a different technological space than it is designed to fight. This is not a matter of a particular weapons-system, but it could be a matter of a threatened adversary's dreaming up a feasible technological dimension which you, perhaps, had simply not thought about....

"The rampant incompetence in military and related matters shown by Bush Administration economists generally, and by Cheney's and Rumsfeld's pack of neo-conservatives—and, in that context, in events such as the recent, not really very secret meeting in [Offutt Air Force Base] Nebraska—demonstrates that any notion of an assumed invincible strategic doctrine in the intentions of these characters, is such that any capable, otherwise weaker nation, is intrinsically capable of discovering how to defeat it, if they have not already defined such solutions."

In a speech on Nov. 1, 2003, LaRouche spelled out the danger of the Cheney policy, and particularly the Pentagon discussion of using mini-nuclear weapons today: "We live in a world," he said, "in which thermonuclear weapons, and related things, define an environment of Mutual and Assured Destruction, really. Now, what is Cheney talking about, therefore? What's the problem we're living under? What Cheney is talking about, and others are talking about—the neo-cons—is: Let's have a sub-Mutual and Assured Destruction regime. Let us conduct nuclear warfare, in such a way, that we never go to full-scale thermonuclear war, but that we use mini-nukes, and other kinds of weapons of mass destruction, in order to find a level between what used to be called 'conventional warfare'—pre-nuclear warfare—and thermonuclear warfare, generally. So therefore, to find a 'middle area' to fight limited nuclear warfare, as preventive nuclear warfare: to establish a world empire; to eliminate all nation-states, and establish imperial control over the planet, by this method."

Universal Service

LaRouche has been an opponent of the "all-volunteer Army" since its inception, and an advocate of universal military service. As a Democratic Presidential contender back in 1979, he issued a Presidential Campaign Paper titled Military Policy of the LaRouche Administration, in which he described the all-volunteer army as "the most lunatic approach" to the strategic threats facing the United States, and called for "constructing a pyramid of reserve capabilities, with the base of the pyramid provided by a national organized militia grounded in universal military training." Citing the experience of Lazare Carnot and Gaspard Monge in France during 1793-1804, and of West Point under Commandant Sylvanus Thayer, he elaborated: "Every person not disqualified by physical or mental disabilities, should enter universal military training at the age of eighteen, following some significant degree of pretraining as part of secondary-school programs. Universal military training should be based on a combination of university UMT programs plus two-year engineering-academy training, including a twenty-five percent or greater military-training component.... The national militia reserve is interchangeable with the reserve forces of a national Corps of Engineers." He explained that, except for the purely military aspects of the program, UMT should cost the nation nothing in net, since it would provide enormous gains in productivity, relative to the costs of the engineering training, by raising the skill levels of the workforce." This concept has featured in LaRouche's work throughout the intervening years.

In an Oct. 22, 2003 webcast, from Washington, D.C., LaRouche announced: "It is also my present intention, that during the first hours of my Presidency, I shall present a proposed bill to Congress restoring national military service of qualified citizens. We may recall, that it was the lunatic folly of the so-called preventive U.S. war in Indo-China which led to the destruction of national military service of citizens. As we have seen lately, the reform ending the draft did not solve the problem we experienced in Indo-China, but actually made it worse, as we have seen the same great folly re-enacted in Afghanistan and Iraq.

"It has been largely forgotten that national military service was the tradition upon which our constitutional republic was founded."

Nation-Building/Army Corps of Engineers

At his Oct. 22, 2003 webcast, LaRouche stressed: "Despite our healthy abhorrence of war, national military service is an integral part of citizenship in a functionally sound republic. The urgent need for building up the Army Corps of Engineers at this time is a relevant example.

"We have a social problem of first magnitude of importance among the generations of young Americans who have little or no qualification for the kind of productive employment in which they could expect to support a normal family household. In Franklin Roosevelt's time, we attacked this kind of problem with the quasi-militarized Civilian Conservation Corps. On my first day in office, I shall take a series of related actions on this problem.

"The fundamental solution for the present bankruptcy of our nation, lies in halting the cutting of general levels of good-producing employment in the misused name of balancing budgets, and, instead, expanding the level of total productive employment, up to the point that the value of the goods produced exceeds the costs and expenses currently incurred for the operation of the national economy. We must bring the level of productive employment up, such that current output exceeds the current component of costs of maintaining the nation. The measures we must take immediately to bring this problem under control, must include measures which remedy the lack of competence for good productive employment among a very large ration of young Americans.

"Our experience with World War II war-time selective service, when combined with the experience of the CCCs, shows us the road to transforming presently marginally-employable young Americans into a quality of employable labor force needed for a successful national economy recovery effort overall. Since more than half of the economic recovery effort needed today will be in basic economic infrastructure at the Federal, state, and county/municipa1 level, the combined role of an Army Corps of Engineers with auxiliaries resembling the CCCs is an obvious leading element of the national economic-recovery process.

"These forces, both military and civilian, shall function under a principle of mission-orientation. The orientation will proceed from the role to be accomplished for the nation and its economy as a whole, by the infrastructure-building program as a whole; and from the integral importance of the function of the particular project to which they are currently assigned. We must shift the idea of labor, back to the personal satisfaction of the worker in getting the job well done which is needed for the nation."

Iraq Policy. A Nov. 24, 2003 press release from the LaRouche in 2004 campaign is headlined, "LaRouche: 'I'm for the Immediate Withdrawal of U.S. Forces From Iraq.' " He emphasized that "U.S. troops in Iraq are now absolutely useless, because of the crimes that have been committed by our government. We have lost all credibility in the situation. So I wouldn't want a single American in that area, at this time." He proposed that, through the United Nations Security Council, we establish the arrangements under which Iraq could be rebuilt as a nation.

"My withdrawal plan is very simple: can we get them all out overnight? Physically? No. You have to move them. How do you move them? What you do is, your policy says you're going to withdraw your troops into certain areas of concentration for withdrawal. So you pick these territories, and your little hedgehogs, and you begin to fly the troops out. And the other forces or whoever comes in to assist the Iraqis, will replace them. So, effectively, on the day the orders are given, they will be effectively on the way out. The order will be believed, and it will be as rapidly as possible. They will withdraw to positions which are predetermined as places of concentration. And they will be removed, as units. And the other nations will take over responsibility."

Veterans

At his Oct. 22, 2003 webcast, from Washington, D.C., titled, "Preparing for the Post-Cheney Era," LaRouche prioritized military policy under the topic, "Honor the Veteran." He began his discussion of this, saying, "It is also my present intention, that during the first hours of my Presidency, I shall present a proposed bill to Congress restoring national military service of qualified citizens...." The principle involved in this, and the related points he then made about building up the Army Corps of Engineers, and other measures, all serve the purpose of restoring the economy of the United States.

In early January 2004, LaRouche commissioned work for a mass-circulation policy document on the economic crisis, and the crisis of military personnel—active duty, reserves, and veterans, saying, "The time has come to end the turning of our military into unpaid mercenaries."

During his campaign, LaRouche has stressed the measures necessary to assure a sound economy, with an adequate infrastructure base (hospitals, medical corps) and institutions (Veterans Administration system, pensions) in order to provide for the livelihoods of veterans and civilians alike—jobs, housing, medical care. Among the points he specified on Oct. 22, for example, was health care. He said, "I shall also take immediate action, within the power of the Executive, and by proposed legislation to the Congress, to fully reactivate the Veterans Hospital System."

For health care, LaRouche has repeatedly focussed on the need to restore a full-service system of VA facilities, and to stop the shutdown and denial of health care. He calls for repeal of the HMO system, and all the various forms of "managed care" being promoted in the military. He calls for a return to the principles of the post-World War II Hill-Burton Act, to provide adequate medical facilities for all (referring to the 1946 bipartisan national hospital-building program).

On Oct. 28, 2001, at the time of the anthrax attacks, LaRouche issued a document, "Building a National Defense Against Germ Warfare," which called for building up public health and hospital capabilities, on the basis of military principles of logistics in depth. This has been a theme for decades. In 1983, in a 15-page paper on the SDI, LaRouche wrote a detailed profile of the principles involved, under the heading of "Tasks of Civil Defense," stressing, "a practicable civilian defense medical assistance system will be one modeled on military medical organizations." (Fusion, September-October 1983)

Earlier in 2001, LaRouche waged an international effort to prevent the shutdown of D.C. General Hospital in Washington, and his campaign pointed out the disastrous process of destruction of both the military and community facilities across the nation. Significant health-care infrastructure was lost when 100 bases in 28 states were closed under the Base Closure and Realignment Act of 1988 and 1990; then even more, over the past decade. In Washington, D.C. the Walter Reed Army Medical Center was designed to treat 1,260 patients. As of 2000, it had eliminated all but 240 beds.

In another issue of urgent concern to veterans, LaRouche's campaign committee on Sept. 15, 2003 put out a press release stating that when he enters the White House in January 2005, "he will launch a full probe into the circumstances surrounding the sinking of the U.S.S. Liberty, during the June 1967 Arab-Israeli War. He added that he would call on President Bush and on all other candidates in the 2004 Presidential race to join him in endorsing such an official probe, so that there would be no need to wait for 16 months to get the investigation moving—while many key witnesses are still alive and able to provide their eyewitness evidence."

John Kerry
Military Doctrine/Strategic Defense (A double-minded man is unstable in all his ways).

Senator Kerry most often addresses defense in terms of how to deal with the threats of "global terrorism," and in particular, he stresses using diplomacy, not resorting to warfare. In 1997, Kerry wrote The New War, described on his campaign website as, "an in-depth assessment of the national security issues facing the United States in the 21st century."

In a speech on Dec. 16, 2003 in Des Moines, Iowa, titled, "Foreign Policy in a Post-Saddam World: Rebuilding Our Alliances and Iraq," Kerry stated some general points on defense, without addressing military strategy as such. He said: "I believed then [a year and a half ago], and I believe now, that Americans deserve better than a false choice between force without diplomacy, and diplomacy without force. To provide responsible leadership, we need to take the third path in foreign policy—a bold, progressive internationalism—backed by undoubted military might—that commits America to lead in the cause of human liberty and prosperity....

"Nowhere it that clearer than in Iraq.... The Administration's reluctance to share power and responsibility is all the more stunning because it prevents them from investing Europe and Middle Eastern neighbors in their own self-interest not to have a failed state on their doorsteps and borders....

"The threat of terror continues to reach from the streets of Baghdad and the Middle East to the streets of Asia, Europe, and America itself. We must not waste this opportunity to rebuild alliances, both in Iraq and against global terrorism. "We owe this kind of internationalism first of all to our troops.... We need tools of diplomacy equal to the tools of war" (emphasis in the original).

On Sept. 25, 2003, in an interview on CNN with Paula Zahn, he said that Defense Secretary Rumsfeld should resign over his failed Iraq policy. Kerry accused him of rushing to war without adequate planning. "Our military is weaker today; they're overextended."

The future of the U.S. military is referenced on Kerry's website, in an undated item titled, "Priorities—Giving Our Military the Tools and Support It Needs." Kerry says: "It is up to Democrats to understand and prepare for the Fourth Generation Warfare—fighting unconventional forces in unconventional ways—so our nation can be better prepared to wage and win the new war.... A modern military means smarter, more versatile equipment; better intelligence; advanced communications; long-range air power; and highly mobile ground forces."

He also calls for supporting members of the armed forces with "quality health care, housing, and competitive wages," and similar measures. He was co-sponsor of an amendment to the Department of Defense Authorization Bill to allow the military to transport family members of those service people wounded in active duty.

Preventive War

On June 17, 2003, in an interview for MoveOn.org, Kerry was asked whether he would repeal Bush's pre-emptive war doctrine, and replied, "I spoke out against it during the Senate's Iraq debate, stating that we should not be 'giving Bush carte blanche to run roughshod over every country that poses—or may pose—a potential threat to the U.S.' Bush's position is a blanket doctrine that can easily be misinterpreted and misapplied. As President, I will use force when it is necessary to defend core American values and interests against imminent threats."

In October 2002, Kerry voted in favor of the Authorization for Use of Military Force Against Iraq Resolution.

Mini-Nukes

Kerry uses the formulation, "Fourth Generation" warfare, to refer to "unconventional" combat with unconventional weapons, but, on his website, he does not differentiate, nor denounce those in the Administration today, who seek mini-nuclear weapons and pretexts for war.

He supports more international weapons control, stating, "It is time for the most determined, all-out effort ever initiated to secure the world's nuclear materials and weapons of mass destruction." He fought against U.S. withdrawal from the Comprehensive Nuclear Test Ban Treaty.

Universal Service

On Oct. 16, 2003, in Franklin, New Hampshire, a voter asked Kerry if he would re-institute the draft, in order to make the burden of military service equal, because, "the poor people fight the war, while the rich people stand by." According to the Union Leader coverage, "Kerry said he wouldn't bring back the draft to deal with the situation in Iraq, and would consider it only in a situation where there was a much larger war. He said, if the draft were re-instituted, he would want to see it administered 'without politics and favoritism.' " On Dec. 2, 2003, at a speech at Boston University, Kerry said he does not believe there is a need to re-instate the draft, which Kerry described as a source of conflict during the Vietnam War.

Nation-Building/Army Corps of Engineers

Kerry's website has no reference to the U.S. military tradition and role of engineering for infrastructure provision for nation-building. On May 19, 2003, he called for creation of "A New Army of Patriots" for "a nationwide commitment to national service" for civilians. Functions cited include firefighting, police-work, and other functions, some potentially connected to security of infrastructure.

Iraq Policy

In his Dec. 16, 2003 speech, Kerry outlined four main points on Iraq: 1) give the UN authority in the rebuilding process, and development of a new Iraqi constitution and government. "Ambassador Bremer and the coalition Provisional Authority should be sincerely thanked for their service—and replaced by a UN Special Representative in Iraq who will remove the stigma of foreign occupation from our presence there." 2) Increase the size of the U.S. force in Iraq. "In the face of grave challenges, our armed forces are spread too thin." 3) Set a timetable for transferring political power and responsibility for reconstruction, over to the people of Iraq; and also, arrange for a trial for Saddam Hussein in Iraq, in which international participants (jurists, prosecutors, and investigators) work alongside Iraqis. 4) Restore "a sense of basic order" in Iraq. Lawlessness undermines civil society. For order, "The job properly belongs to the new Iraqi security forces. And the United States and the allies we enlist need to do a far better job of training them—and then transferring authority to then."

Veterans

Kerry lists nine priorities: 1) mandatory funding of veterans' health care; 2) granting full concurrent receipt to disabled veterans (to receive both military retirement pay and disability compensation); 3) making the Veterans Administration responsive; 4) proper financial compensation for soldiers and their families; 5) full accounting for POW/MIAs; 6) combating homelessness; 7) supporting members of the National Guard and Reservists; 8) protecting family members who lose a loved one; 9) not overstretching the military. For the last point, Kerry calls for a temporary increase of about 40,000 active-duty Army troops, to last out the remainder of this decade.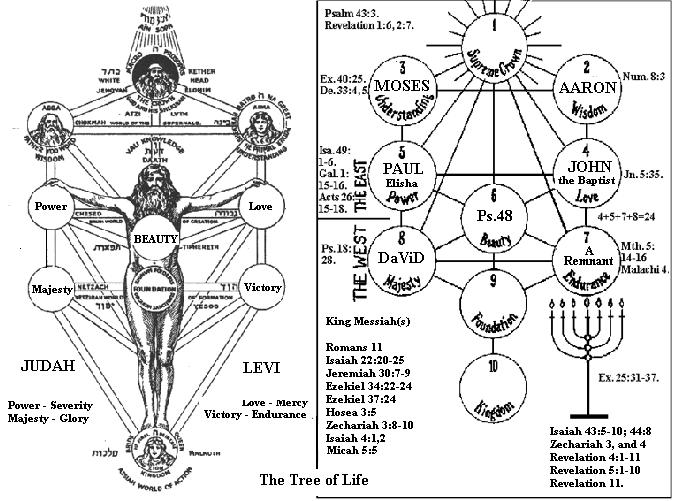 Capitalism, Zionism and Neo-cons
The American MIlitary Establishment, and the Church That Supports It.

ARE CHENEY AND FRIENDS USING DROSNIN'S BIBLE CODE?
From Godlike Productions list
5-1-04

Hello GPLers,
I would appreciate any links you can find relating to the story about Michael Drosnin, author of The Bible Code, who has apparently been holding back some of his predictions exclusively to counsel Dick Cheney and other high-ranking members of the national Security State elite as to the events of May 15-20. Drosnin was consulted by the Pentagon prior to the Iraq invasion and more recently by Cheney who has allegedly paid him a consultant retainer. The controversial author was probed on his view of the David Booth's prophecy that America would be destroyed at some point during the month of May 2004, as elucidated in his work of plagiarism "Code Red: The Coming Destruction of America."

(Note - Mr. Booth mentioned the time frame of 'April 20 - May 20' as the time during which something would happen that would 'change the world forever'. You can hear him so state in our program Archives in his 'final interview' of April 12. -ed) Drosnin's advice has reportedly seen Cheney in a whirl of self-preservational activity recently, engaged in enhancing his underground facilities at the Naval Observatory and at Greenbriars in West Virginia. http://www.godlikeproductions.com.

The following confirmation of the Drosnin briefings appeared in the NY Times on March 8, 2003 in an article written by Bill Keller. -ed

Excerpt:
Two weeks ago, a group of senior intelligence officials in the Defense Department sat for an hour listening to a briefing by a writer who claims " I am not making this up " that messages encoded in the Hebrew text of the Old Testament provide clues to the whereabouts of Osama bin Laden. One of the officials told me that they had agreed to meet the writer, Michael Drosnin, author of a Nostradamus-style best seller, without understanding that he was promoting Biblical prophecy. Still, rather than shoo him away, they listened politely as he consumed several man-hours of valuable intelligence-crunching time. Apparently he has given similar briefings to top officials of Mossad, the Israeli intelligence agency.
http://www.nytimes.com/2003/03/08/opinion/08KELL.html?

And this story from RM News and Rense.com: Is The Pentagon Using The Bible Code? By Linn Ciesla Rumor Mill News Agents Forum 4-4-3

Have you ever noticed the way any sort of predictive art/science is consistently ridiculed by the mainstream, but meanwhile seem to be used on an invariably consistent level by those in power? A long time ago, J.P. Morgan said, "Millionaires don't use Astrologers, billionaires do." And, we've all heard about Nancy Reagan's penchant for astrologers, you can read a People Magazine story title 'The President's Astrologers' from 1988 about that here: http://www.astrologynow.com/Astrology.601.htm
Currently, the latest thing our leadership seems to be dabbling in is Bible Codes. To give credit where credit is due, I originally saw this story on Godlike Productions: http://www.godlikeproductions.com/news/item.php?keyid=3269 They had a link to the following: http://www.raidersnewsupdate.com/

On the eve of war, military brass listened intently as Michael Drosnin expounded the Bible code The gathering, which took place Feb. 21, was convened by Paul Wolfowitz, the hawkish U.S. Deputy Secretary of Defence, and attended by 10 top military intelligence officials, including Vice Admiral Lowell "Jake" Jacoby, director of the massive Defense Intelligence Agency, and Wolfowitz's deputy, Linton Wells, who is in charge of the Pentagon's nerve centre, known as 3CI (Command, Control, Communications)...

The above page links to the following: http://www.raidersnewsupdate.com/lead-story4.htm Which is a re-post of the original story at: http://www.nationalpost.com/search/site/story.asp?id=4 9A6AF5F- A64C-4031-AF96-C478FFBDD643 Here's an excerpt:

On the eve of war, the military brass listened intently for a full hour as Michael Drosnin expounded on his two brisk-selling volumes on the Bible code. Drosnin argues the Hebrew Torah -- the first five books of the Old Testament -- were intentionally encrypted, by a higher power, with prophetic warnings that have accurately predicted the Great Depression, the Second World War, the Kennedy assassinations, the moon landing, Watergate, and 9/11 -- and foretell the fall of Saddam Hussein and the precise location of bin Laden. The Americans "took it very seriously," Drosnin says. "They're practical people and I wanted to give them something of practical use."

As a result of the meeting, Drosnin says U.S. and Israeli intelligence forces are hot on bin Laden's trail in that very place the Bible mentions, "right as we speak." Of course, he would not divulge where that place is. As for Saddam Hussein, the Bible's embedded code ponders, "Who is destroyed?" and then, in the same matrix, answers, "Hussein," with the following number crossing his name: 5763, the Jewish year that corresponds to 2003. "That foretells the outcome of this conflict," Drosnin says confidently. "It might be obvious now, but it wasn't when I told them." If you're really interested in all this, you also might want to take a look at 'Isaac Newton, Bible Code Pioneer?': http://www.biblecodedigest.com/page.php/74

To Newton,s mind it was clear that some prophecies would not be understood until the end of history. This is an excerpt from his book on Daniel and Revelation: This prophecy is called the Revelation, with respect to the Scripture of Truth, which Daniel was commanded to shut up and seal, till the time of the end. Daniel sealed it until the time of the end, and until that time comes, the Lamb is opening the seals: and afterward the two Witnesses prophesy out of it a long time in sackcloth, before they ascend up to heaven in a cloud. All of which is as much as to say, that the prophecies of Daniel and John should not be understood till the time of the end: but that some should prophesy out of it in an afflicted and mournful state for a long time, and that but darkly, so as to convert but few. But in the very end, the Prophecy should be so far interpreted so as to convince many. Then saith Daniel, many shall run to and fro, and knowledge shall be increased. For the Gospel must first be preached in all nations before the great tribulation, and end of the world. The palm-bearing multitude, which came out of this great tribulation, cannot be innumerable out of all nations unless they be made so by the preaching of the Gospel before it comes. There must be a stone cut of the mountain without hands, before it can fall on the toes of the Image, and become a great mountain and fill the earth. An Angel must fly through the midst of heaven with the everlasting Gospel to preach to all nations, before Babylon falls, and the Son of man reaps his harvest. The two prophets must ascend up to heaven in a cloud, before the kingdoms of this world become the kingdoms of Christ.

'Tis therefore a part of this Prophecy, that it should not be understood before the last age of the world; and therefore it makes for the credit of the Prophecy, that it is not yet understood. But if the last age, the age of opening these things, be now approaching, as by the great success of late Interpreters it seems to be, we have more encouragement than ever to look into these things.
If the general preaching of the Gospel be approaching, it is for us and our posterity that these words mainly belong: In the time of the end the wise shall understand, but none of the wicked shall understand. Blessed is he that readeth, and they that hear the words of this Prophecy, and keep those things that are written therein (Daniel 12:4,10)
I dunno -- guess astrology and bible codes are bullsh*t when us regular folks use them, but worth spending taxpayer dollars on if the big shots think they might give them an edge somehow? http://www.rense.com/general36/penta.htm

For claims that the 'Bible Code' is BS - http://cs.anu.edu.au/~bdm/dilugim/torah.html